BorrhålsBooster tekniken är väldokumenterad och har bland annat genomgått såväl doktors-avhandlingar som branschstudier på KTH i Stockholm, LTU i Luleå och Chalmers i Göteborg.
Här hittar du studier och rapporter som tar upp EnergyBoosters borrhålsteknik om du vill fördjupa dig ytterligare hur luftbubblor i borrhålet kan ge en högre effektavgivning i ditt värmesystem.


Forskningen inom geoenergi sysselsätter idag ca 14 heltidstjänster på universitet, institut och företag. Just nu pågår ett omfattande forskningsprojekt på Chalmers i Göteborg där en av delarna är en experimentell jämförelsestudie av prestation och effektivitet i vertikala borrhålssystem. Där ingår EnergyBoosters teknik som en komponent och vi bidrar med den kunskap vi byggt upp inom området.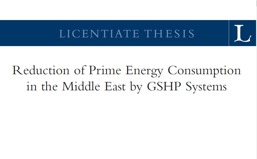 Reduction of prime energy Cons..
Reduction of Prime Energy Consumption in the Middle East by GSHP Systems by Mohamad Kharseh, Licentiate Thesis, 2009.
Luleå University of Technology. Renewable Energy Group Division of Architecture and Infrastructure. Luleå, Sweden.
Supervisor: Professor Bo Nordell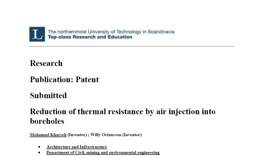 Reduction of thermal resistance
Reduction of thermal resistance by air injection into boreholes by Mohamad Kharseh, Research. Publication: Patent, 2010.
Luleå University of Technology. Architecture and Infrastructure. Department of Civil, mining and environmental engineering Research. Luleå, Sweden.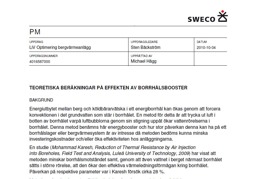 Teoretiska beräkningar av effekt..
Teoretiska beräkningar på effekten av EnergyBooster. Upprättad av: Michael Hägg, Sweco. Rapport 2010.
På uppdrag av Landstinget i Värmland gällande optimering av bergvärmeanläggning.
Uppdragsledare: Sten Bäckström Landstinget i Värmland.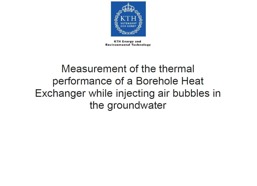 Measurement of the thermal perf..
Measurement of the thermal performance of a Borehole Heat Exchanger while injecting air bubbles in the groundwater by Eduard Calzada Oliveras. Master of Science Thesis Energy Technology, 2012. KTH School of Industrial Engineering and Management. Division of Applied Thermodynamic and Refrigeration, Stockholm. Examiner: Björn Palm, Supervisor: José Acuña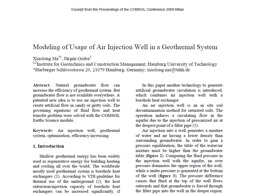 Usage of Air Injection Well
Modeling of Usage of Air Injection Well in a Geothermal System by Xiaolong Ma, Jürgen Grabe.
Hamburg University of Technology. Institute for Geotechnics and Construction Management.
Hamburg, Germany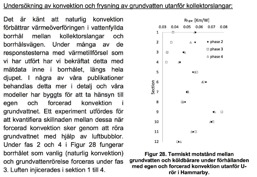 Thermal resistance, natur-forced..
Summary from study by Jose Acuna.
KTH School of Industrial Engineering and Management.
Division of Applied Thermodynamic and Refrigeration.
Stockholm, Sweden